THE BARN REVEALED
June 4, 2021
The Barn… finally revealed!! The Barn is finally here and ready for reservations! After a VERY short time period of only 9 months (short in remodeling and construction world), we managed to plan, source, and build this 3,000 sq. ft. barn with an amazing team of contractors and carpenters. We are thrilled, PROUD, and very happy to reveal The Barn as our 7th getaway for Candlewood Cabins. Thinking back on all the challenges, obstacles, and setbacks, we feel as though we could cry and hold each other while screaming, WE MADE IT!! Well, maybe not that dramatic. But this was one of our most challenging projects to this date. I mean, a barn is not a 'normal' place for people to sleep but we couldn't stop the wheels from turning, and decided to take on the challenge. So without further ado… allow me to walk you through some of the design choices we made, why we made them, and the brands we selected for our products. The barn features 2 main levels with an elevator for easier access. The layout consists of 4 bedrooms, 4 bathrooms, 2 living rooms, a loft, an outdoor patio (coming in summer 2020). The kitchen, dining room, and living room are located on the 2nd level in order to feel the expansive gambrel roof line and ceiling while maximizing views through the large window. We designed a custom staircase using reclaimed beams as the treads and installed an elevator for hauling groceries, luggage and easier access to the second floor. Photos & Styling by Goldmine Interior Design by Calnin Design Studio The Kitchen: Let's start with the main attraction! My personal FAVORITE design element. The kitchen was inspired by a classic English style that showcases modern amenities, shaker cabinets, and vintage pieces. The cabinetry was custom made by our friends at Jewell Hollow with excellent craftsmanship and attention to detail. At roughly 13 feet long and over 4 feet wide, the island serves as the center for conversation and has plenty of space for multiple cooks in the kitchen.  The thing I love most is how the island floats in the space like the counter from an old  'general store'. I really like that you can chop veggies on one side of the island while having a conversation with someone across from you - without losing a finger, of course! Photos & Styling by Goldmine Interior Design by Calnin Design Studio I didn't want a tile backsplash behind the stove so we designed a custom slat wood siding with a shaker rail for hanging pots and pans. This was a controversial move as we weren't sure about grease stains and food splatters coming off, but in the end, I think it completes the classic English style and historical look - and so far so good on any stains! One of our favorite appliances we chose is the electric stove from the GE line, Cafe. It really created a chef's kitchen feel and I love that you can also mix and match the base and hardware colors of the stove for the perfect combo to fit any color scheme. Photos & Styling by Goldmine Interior Design by Calnin Design Studio The Bedrooms Throughout the bedrooms we really wanted to emulate an old historic place where you felt as though you were stepping back to a simpler time period. To execute that idea, the finishes and color palettes in each bedroom are earthy, warm and carry a lot of charm and character. Every square foot of the bedrooms was determined by existing structural beams that shoot across the barn supporting the original structure. We made sure the beams were exposed so that the face and texture of the beam are revealed in each room. I think this architectural detail set the tone for most of the design as we wanted to create a historical mood and honor the barn's original structure. Photos & Styling by Goldmine Interior Design by Calnin Design Studio Photos & Styling by Goldmine Interior Design by Calnin Design Studio The South Bedroom - Again, one of my favorites. The softness in creams, greys, warm wood tones, and romantic white walls. When I am standing in this room, I can almost picture Miss Bennet having her tea in bed or reading her favorite book while the maid draws a bath for her in the next room (Pride and Prejudice fans...anyone?). The 11 ft. ceiling in the tiled shower gives a sense that the water is coming straight down from the sky with the Contemporary Round Rainhead from Kohler. The beautiful Duet Cast Iron Double Roll Top Tub from Barclay stays warm for a very looooong time due to the cast iron material. Let's face it, who wants to sit in luke-warm water after 10 minutes? You're welcome :) Photos & Styling by Goldmine Interior Design by Calnin Design Studio Photos & Styling by Goldmine Interior Design by Calnin Design Studio Photos & Styling by Goldmine Interior Design by Calnin Design Studio The West Bedroom - This bedroom is also very special and moody in it's own right. The iron frame king bed is perfectly paired with a one of a kind vintage Geometric Tribal Bidjar Oriental rug, which we scored on Ebay (after many hours of hunting). We also scored TWO antique pocket doors from The ReStore and used them as a multifunctional unit: a rustic piece of art on the wall behind the bed, which ALSO slides to the left and right to cover the windows for privacy. Did I mention the HUGE master bathroom that is probably the size of my first apartment?? I mean, you could throw a DJ in there and have a dance party. However, our intention is to have all abled bodies with different accessibility needs use the space with enough room for any type of equipment such as a motorized wheelchair, walker, etc. It's BIG and truly a gorgeous bathroom. Photos & Styling by Goldmine Interior Design by Calnin Design Studio Photos & Styling by Goldmine Interior Design by Calnin Design Studio The Bunkroom-Fun-Room - Not the official name… but it certainly gives you a funky vibe from the 4H flag that hangs as a curtain, to colorful bedding from Schoolhouse, twin iron beds, and a custom bunk bed (full mattress on bottom with twin mattress on top). We also love the original cheery watercolor paintings of barns from Mechtild Calnin (my grandmother) that add more whimsy and brightness to the room. Photos & Styling by Goldmine Interior Design by Calnin Design Studio 2nd floor bedroom - Can I say JENNY LIND BEDS ARE MY FAVE??! These Jenny Lind queen beds from Crate&Kids (which carry adult size beds too) were the perfect feel when we searched for something that looked vintage, but was newly manufactured. They really make the room feel classic and compliment the restored barn wood flooring. We also incorporated more original pen drawings by Mechtild Calnin from art school in Germany in 1946, which once again add simplicity and charm to the warm style of this room. Photos & Styling by Goldmine Interior Design by Calnin Design Studio The TV Room or as we call it, The Cognac Room. Another controversial debate was, should we add a big screen TV to the Barn? While none of the other cabins have a TV, we talked, we thought, and talked again, and finally came to the conclusion that this space felt big enough to incorporate a TV. We still strongly believe in putting down your phones and shutting off the TV so that you can disconnect and RE-connect with each other. Which is why we designed two living areas so that you can have both options. The TV room is no schlep (that's a design word we use often). For all the gallery wall pieces we had the fun project of gathering vintage artwork from Susan Calnin's basement. Yes, she has collected tons of vintage artwork over the years that found a perfect home in the barn. You can also spot many of Mechtild Calnin's original drawings from art school when she lived in Germany on this wall. The leather sofa and vintage Tribal Hamadan Oriental rug compliment one another beautifully. We envisioned ladies and gents retreating to this room for an after dinner cognac drink, and if this were the 1920s, you'd have a cigar, but sorry - no smoking :). Photos & Styling by Goldmine Interior Design by Calnin Design Studio Photos & Styling by Goldmine Interior Design by Calnin Design Studio Photos & Styling by Goldmine Interior Design by Calnin Design Studio The Living Room Big windows, comfy furniture, vaulted ceilings, wood stove - Do I need to spell the word Hygge? We wanted this area to be the awe-inspiring and heart-warming spot of the barn. The tall glass windows provide so much light during the day and beautiful star gazing at night. It's funny to think that this was a working barn for milking cows and is now a place where we envision families gathering and getting cozy next to the woodstove. The furniture and vintage area rugs continue the classic traditional feel with warm surrounding wood tones. The kitchen and dining areas are nearby, so don't worry about missing out on conversations if you have bad FOMO like me. Or maybe you want to cuddle up with a book on the green chaise and disappear into your favorite novel. Whatever the motive, it's a place for relaxing and enjoying the view of nature just outside the window. As with all our glass house rentals, we went with the same company to source our woodstove for their efficiency and Scandinavian style. We really enjoy The Modern Wood Burning Stove from Hearthstone for its sleek look and amazing ability to heat a room by using less wood. We never thought that one day this old barn would be the classy lady it is today. With many century barns in the Midwest being torn down, or just falling apart, it's becoming more and more challenging to spot these classic buildings - which are an important part of our agricultural history. It was a rewarding experience to transform the barn and honor its original integrity while giving it more life to live on. It was a pleasure to lead this design and I can't wait to share with all of you when you book a few nights at The Barn. Katie Calnin is the owner and lead interior designer of Calnin Design Studio. She has also designed The Little House Next Door and The Woodland House, both of which are located at Candlewood Cabins. Katie resides in Madison, WI and considers herself a professional daydreamer and loving cat lady. You can follow more of Katie's designs, projects, and everyday life on Instagram @kcalnin.   Other brands we used: Kitchen Cafe' Smart Slide-In, Front-Control, Radiant and Convection Range in Matte Black. Brizo Litze Pull-Down Faucet with Arc Spout and Industrial Handle Island Countertop Gerhardt's Kitchen and Bath Store Bathrooms Purist Wall Faucet in brushed gold and matte black San Souci Comfort Height Toilet (used throughout all bathrooms) Gerhardt's Kitchen and Bath Store Bedding Schoolhouse Diamond Ticking Quilt Parachute Home Percale Duvet Cover Pottery Barn Grace Floral Texture Duvet Lighting Entry - Rejuvenation Hood Bathroom - Rejuvenation West Slope Sconce Bathroom - Rejuvenation Pittock Double Sconce Bathroom - Rejuvenation Eastmoreland Double Sconce Kitchen Island Pendants - DeVOL The Crackle Pendant Light Bedroom - Pottery Barn Flynn Plug-In Sconce
The Barn… finally revealed!!
The Barn is finally here and ready for reservations! After a VERY short time period of only 9 months (short in remodeling and construction world), we managed to plan, source, and build this 3,000 sq. ft. barn with an amazing team of contractors and carpenters. We are thrilled, PROUD, and very happy to reveal The Barn as our 7th getaway for Candlewood Cabins.
Thinking back on all the challenges, obstacles, and setbacks, we feel as though we could cry and hold each other while screaming, WE MADE IT!! Well, maybe not that dramatic. But this was one of our most challenging projects to this date. I mean, a barn is not a 'normal' place for people to sleep but we couldn't stop the wheels from turning, and decided to take on the challenge. So without further ado… allow me to walk you through some of the design choices we made, why we made them, and the brands we selected for our products.
The barn features 2 main levels with an elevator for easier access. The layout consists of 4 bedrooms, 4 bathrooms, 2 living rooms, a loft, an outdoor patio (coming in summer 2020). The kitchen, dining room, and living room are located on the 2nd level in order to feel the expansive gambrel roof line and ceiling while maximizing views through the large window. We designed a custom staircase using reclaimed beams as the treads and installed an elevator for hauling groceries, luggage and easier access to the second floor.
The Kitchen:
Let's start with the main attraction! My personal FAVORITE design element. The kitchen was inspired by a classic English style that showcases modern amenities, shaker cabinets, and vintage pieces. The cabinetry was custom made by our friends at Jewell Hollow with excellent craftsmanship and attention to detail. At roughly 13 feet long and over 4 feet wide, the island serves as the center for conversation and has plenty of space for multiple cooks in the kitchen. The thing I love most is how the island floats in the space like the counter from an old 'general store'. I really like that you can chop veggies on one side of the island while having a conversation with someone across from you - without losing a finger, of course!
I didn't want a tile backsplash behind the stove so we designed a custom slat wood siding with a shaker rail for hanging pots and pans. This was a controversial move as we weren't sure about grease stains and food splatters coming off, but in the end, I think it completes the classic English style and historical look - and so far so good on any stains! One of our favorite appliances we chose is the electric stove from the GE line, Cafe. It really created a chef's kitchen feel and I love that you can also mix and match the base and hardware colors of the stove for the perfect combo to fit any color scheme.
The Bedrooms
Throughout the bedrooms we really wanted to emulate an old historic place where you felt as though you were stepping back to a simpler time period. To execute that idea, the finishes and color palettes in each bedroom are earthy, warm and carry a lot of charm and character. Every square foot of the bedrooms was determined by existing structural beams that shoot across the barn supporting the original structure. We made sure the beams were exposed so that the face and texture of the beam are revealed in each room. I think this architectural detail set the tone for most of the design as we wanted to create a historical mood and honor the barn's original structure.
The South Bedroom - Again, one of my favorites. The softness in creams, greys, warm wood tones, and romantic white walls. When I am standing in this room, I can almost picture Miss Bennet having her tea in bed or reading her favorite book while the maid draws a bath for her in the next room (Pride and Prejudice fans...anyone?). The 11 ft. ceiling in the tiled shower gives a sense that the water is coming straight down from the sky with the Contemporary Round Rainhead from Kohler. The beautiful Duet Cast Iron Double Roll Top Tub from Barclay stays warm for a very looooong time due to the cast iron material. Let's face it, who wants to sit in luke-warm water after 10 minutes? You're welcome :)
Photos & Styling by Goldmine Interior Design by Calnin Design Studio
The West Bedroom - This bedroom is also very special and moody in it's own right. The iron frame king bed is perfectly paired with a one of a kind vintage Geometric Tribal Bidjar Oriental rug, which we scored on Ebay (after many hours of hunting). We also scored TWO antique pocket doors from The ReStore and used them as a multifunctional unit: a rustic piece of art on the wall behind the bed, which ALSO slides to the left and right to cover the windows for privacy. Did I mention the HUGE master bathroom that is probably the size of my first apartment?? I mean, you could throw a DJ in there and have a dance party. However, our intention is to have all abled bodies with different accessibility needs use the space with enough room for any type of equipment such as a motorized wheelchair, walker, etc. It's BIG and truly a gorgeous bathroom.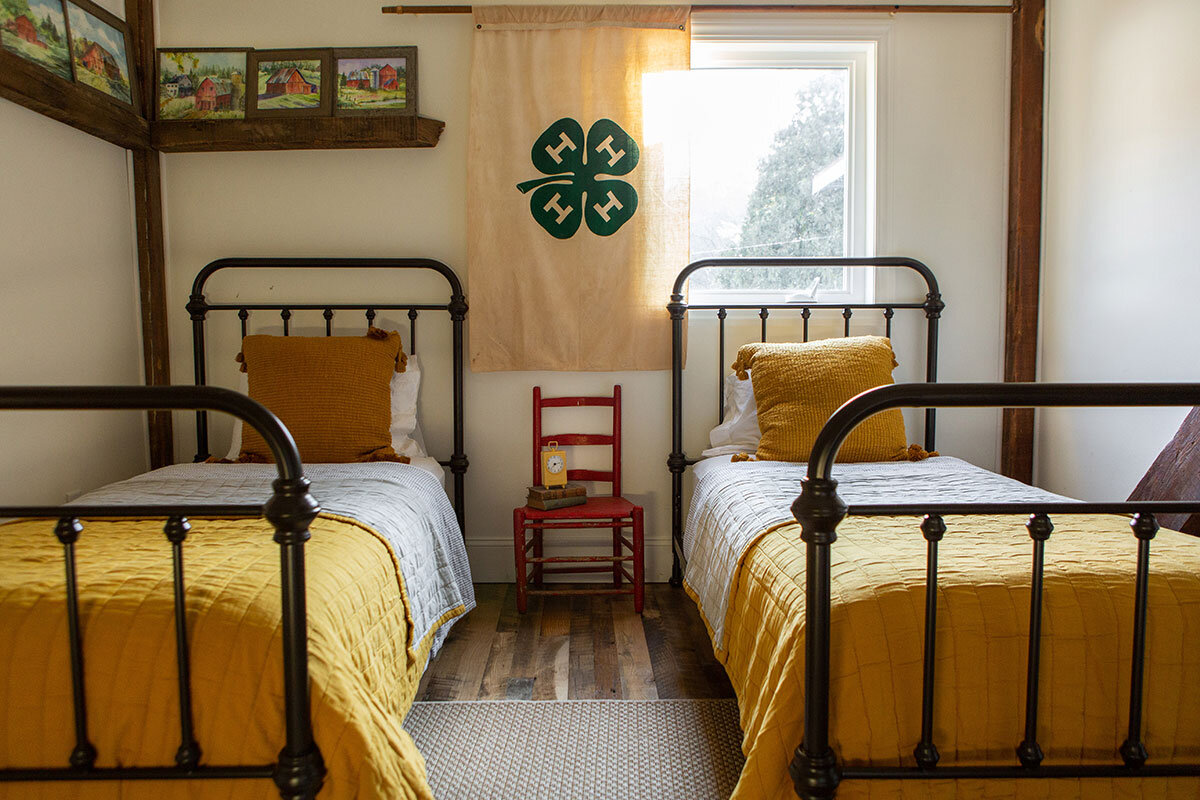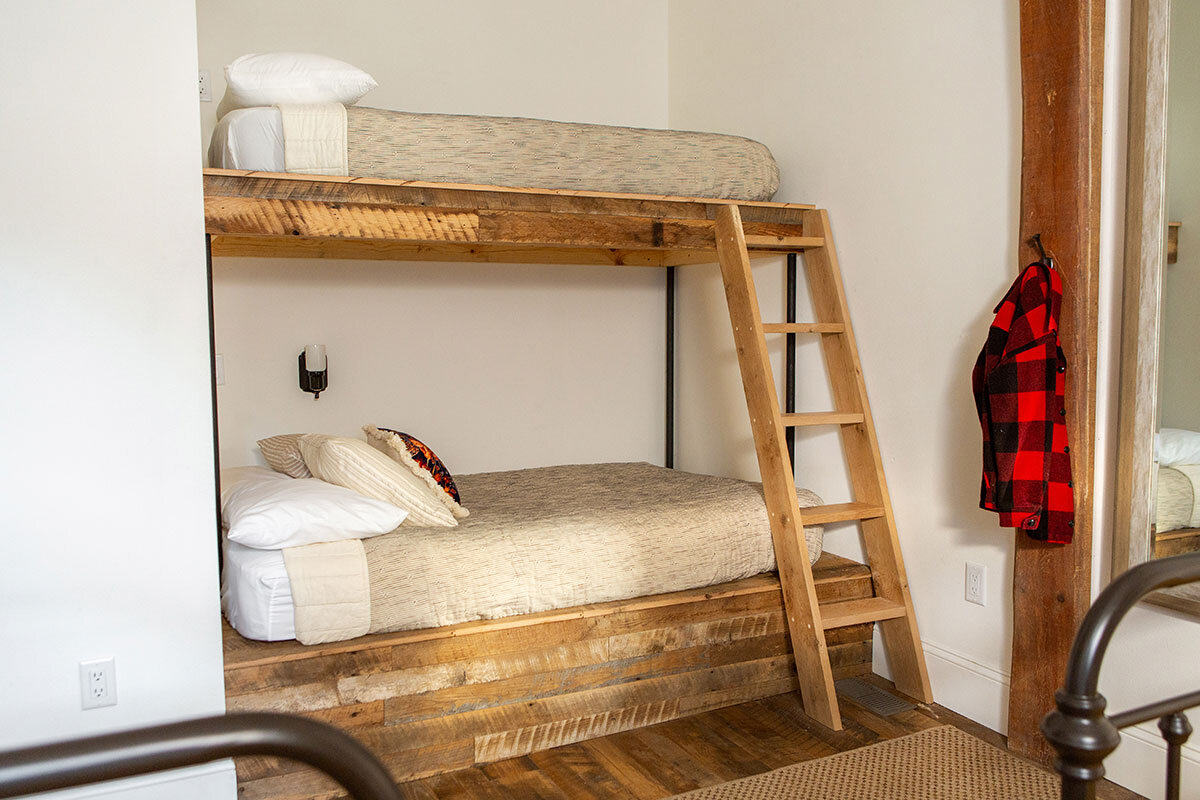 The Bunkroom-Fun-Room - Not the official name… but it certainly gives you a funky vibe from the 4H flag that hangs as a curtain, to colorful bedding from Schoolhouse, twin iron beds, and a custom bunk bed (full mattress on bottom with twin mattress on top). We also love the original cheery watercolor paintings of barns from Mechtild Calnin (my grandmother) that add more whimsy and brightness to the room.
2nd floor bedroom - Can I say JENNY LIND BEDS ARE MY FAVE??! These Jenny Lind queen beds from Crate&Kids (which carry adult size beds too) were the perfect feel when we searched for something that looked vintage, but was newly manufactured. They really make the room feel classic and compliment the restored barn wood flooring. We also incorporated more original pen drawings by Mechtild Calnin from art school in Germany in 1946, which once again add simplicity and charm to the warm style of this room.
The TV Room or as we call it, The Cognac Room.
Another controversial debate was, should we add a big screen TV to the Barn? While none of the other cabins have a TV, we talked, we thought, and talked again, and finally came to the conclusion that this space felt big enough to incorporate a TV. We still strongly believe in putting down your phones and shutting off the TV so that you can disconnect and RE-connect with each other. Which is why we designed two living areas so that you can have both options. The TV room is no schlep (that's a design word we use often). For all the gallery wall pieces we had the fun project of gathering vintage artwork from Susan Calnin's basement. Yes, she has collected tons of vintage artwork over the years that found a perfect home in the barn. You can also spot many of Mechtild Calnin's original drawings from art school when she lived in Germany on this wall. The leather sofa and vintage Tribal Hamadan Oriental rug compliment one another beautifully. We envisioned ladies and gents retreating to this room for an after dinner cognac drink, and if this were the 1920s, you'd have a cigar, but sorry - no smoking :).
The Living Room
Big windows, comfy furniture, vaulted ceilings, wood stove - Do I need to spell the word Hygge? We wanted this area to be the awe-inspiring and heart-warming spot of the barn. The tall glass windows provide so much light during the day and beautiful star gazing at night. It's funny to think that this was a working barn for milking cows and is now a place where we envision families gathering and getting cozy next to the woodstove. The furniture and vintage area rugs continue the classic traditional feel with warm surrounding wood tones. The kitchen and dining areas are nearby, so don't worry about missing out on conversations if you have bad FOMO like me. Or maybe you want to cuddle up with a book on the green chaise and disappear into your favorite novel. Whatever the motive, it's a place for relaxing and enjoying the view of nature just outside the window. As with all our glass house rentals, we went with the same company to source our woodstove for their efficiency and Scandinavian style. We really enjoy The Modern Wood Burning Stove from Hearthstone for its sleek look and amazing ability to heat a room by using less wood.
We never thought that one day this old barn would be the classy lady it is today. With many century barns in the Midwest being torn down, or just falling apart, it's becoming more and more challenging to spot these classic buildings - which are an important part of our agricultural history. It was a rewarding experience to transform the barn and honor its original integrity while giving it more life to live on. It was a pleasure to lead this design and I can't wait to share with all of you when you book a few nights at The Barn.
Katie Calnin is the owner and lead interior designer of Calnin Design Studio. She has also designed The Little House Next Door and The Woodland House, both of which are located at Candlewood Cabins. Katie resides in Madison, WI and considers herself a professional daydreamer and loving cat lady. You can follow more of Katie's designs, projects, and everyday life on Instagram @kcalnin.




Other brands we used:
Kitchen
Cafe' Smart Slide-In, Front-Control, Radiant and Convection Range in Matte Black.
Brizo Litze Pull-Down Faucet with Arc Spout and Industrial Handle
Gerhardt's Kitchen and Bath Store
Bathrooms
Purist Wall Faucet in brushed gold and matte black
San Souci Comfort Height Toilet (used throughout all bathrooms)
Gerhardt's Kitchen and Bath Store
Bedding
Schoolhouse Diamond Ticking Quilt
Parachute Home Percale Duvet Cover
Pottery Barn Grace Floral Texture Duvet
Lighting
Entry - Rejuvenation Hood
Bathroom - Rejuvenation West Slope Sconce
Bathroom - Rejuvenation Pittock Double Sconce
Bathroom - Rejuvenation Eastmoreland Double Sconce
Kitchen Island Pendants - DeVOL The Crackle Pendant Light
Bedroom - Pottery Barn Flynn Plug-In Sconce